GOPUJA AT GOSHALA IN TIRUPATI _ శ్రీ వేంకటేశ్వర గోసంరక్షణశాలలో ఘ‌నంగా గోపూజ‌
Tirupati, 15 Jan. 21: On the festival occasion of the Kanuma festival,  Gopuja was performed at SV Gosala in Tirupati on Friday. 
The entire premises was decked with colourful flowers and pandals while the bovines were all finely decorated to match the occasion. 
Earlier during the day, Sri Krishna Swamy was rendered special Abhishekam and offered Puja.  
The spouse of TTD Trust Board Chairman Smt Swarnalatha participated in Gopuja and Gobbamma Puja held at Goshala.
The Dasa Sahitya Project artists presented keertans and kolatams which added. devotional fervour to the event. 
Assistant Director Sri Suman Kumar, Farm Manager Sri Murali, Superintendent Sri Narendra were also present.
ISSUED BY THE PUBLIC RELATIONS OFFICER TTDs, TIRUPATI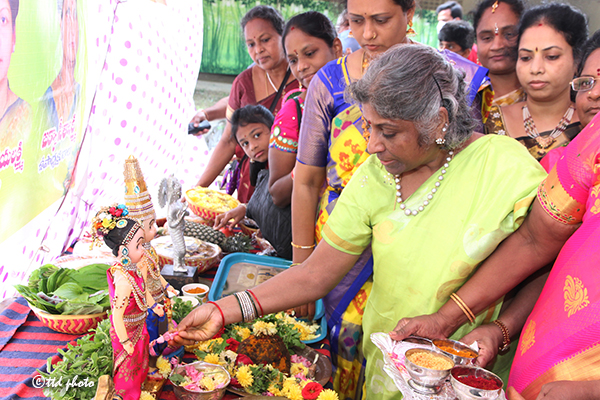 శ్రీ వేంకటేశ్వర గోసంరక్షణశాలలో ఘ‌నంగా గోపూజ‌
తిరుప‌తి, 2021 జ‌న‌వ‌రి 15: తిరుపతిలోని శ్రీ వేంకటేశ్వర గోసంరక్షణశాలలో శుక్ర‌వారం కనుమ పండుగ  సందర్బంగా గో మహోత్సవ వేడుకలు వైభవంగా జరిగాయి.
టీటీడీ ఛైర్మన్ శ్రీ వై.వి.సుబ్బా రెడ్డి సతీమణి శ్రీమతి స్వర్ణలత రెడ్డి గోశాలలోని శ్రీవేణుగోపాల స్వామి ఆలయంలో పూజాది కార్యక్రమాలు నిర్వహించారు. గో మందిరంలో గో పూజ చేశారు. గజరాజు, అశ్వాలు, వృషభాలకు పూజలు  చేసి కర్పూర హారతులు సమర్పించి, వాటికి ఆహారం అందించారు.
ఆర్య వైశ్య మహా జన సభ కు చెందిన మహిళలు ఏర్పాటు చేసిన గొబ్బమ్మల పూజలో ఆమె పాల్గొన్నారు. ఈ సందర్భంగా ఆమె గోపూజ మహాత్యం గురించి వివరించారు.
దాససాహిత్య ప్రాజెక్టు ఆధ్వర్యంలో కళాకారులు భజనలు, కోలాటాలు నిర్వహించారు. 
గోశాల స‌హాయ సంచాలకులు డాక్టర్ సుమ‌న్‌కుమార్, ఫామ్ మేనేజ‌ర్ శ్రీ ముర‌ళి, సూప‌రింటెండెంట్ శ్రీ న‌రేంద్ర‌, ఇత‌ర అధికార ప్రముఖులు, విశేష సంఖ్యలో భక్తులు  పాల్గొన్నారు.
తి.తి.దే., ప్రజాసంబంధాల అధికారిచే విడుదల చేయబడినది.