ANNAMAIAH BALAGANAMRITAM ENTHRALLS DENIZENS OF TALLAPAKA
Thallapaka 5 May 2015: Eminent child vocalists who won the hearts of millions of music lovers across the world with their extraordinary talents in various musical platforms rendered Annamacharya Kritis on Monday evening at Dhyana Mandiram venue in Tallapaka as a part of 607th Jayanthi Mahotsavams of the Saint poet in his native village.
The child artistes, chi.Manya, chi. Grinds, chi.Lakshmipragna, chi.Yasaswi and chi. Abhiram rendered rare sankeertans of Annamacharya composed by renowned music director Sri Salluru Vasundhara Rao and enthralled the denizens. The venue of Tallapaka reverberated to the rhythmic and melodious musical notes of these budding musicians.
Some of the great works of Padakavita Pitamaha Annamacharya including "Choodaninnita", "Ennadu Kalgunide", "Govinda-Govinda", "Okaparikokapari", "Appanivaraprasadi Annamaiah", "Chakkanitalliki Changubhala", "Devadevottamuni Tirutheru" and many more.
Later TTD JEO Sri P Bhaskar released audio CD Annamaiah Balaganamritam – 5 wherein chi. Abhiram has rendered keertans.
Local legislator Sri M Mallikarjuna Reddy, RDO Sri Prabhakara Pillai, All projects Dy EO Smt Sharada, outside temples DyEO Sri Balaji also participated in this musical extravaganza.
Meanwhile Unjal Seva of the celestial deities, Sapthagiri sankeerthana goshthiganam and Harikatha Vibhavari mused the audience in the venue of mammoth Annamaiah statue on Monday evening.
Both the premises of Tallapaka Dhyana Mandiram and venue of 108-feet statue of Tallapaka Annamacharya are jam packed with denizens thronging to these twin venues to witness the special cultural programmes.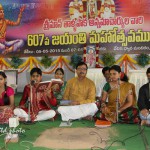 ISSUED BY TTDs PUBLIC RELATIONS OFFICER, TIRUPATI