COMMON DEVOTEES TO GET PRIORITY DURING SRIVARI BRAHMOTSAVAM- TTD CHAIRMAN DR CH KRISHNAMURTHY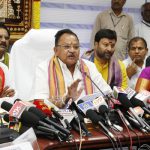 Tirumala, 20 Sep. 16: The TTD board today reiterated that during the ensuing Annual Srivari Brahmotsavams, the common devotees would be given priority in darshan, laddu prasadam, allotment of rooms and also in darshan at Vahana sevas.
The TTD board which met on the eve of the Brahmotsavams ratified various steps taken up by the administration to provide secure, comfortable, convenient experience to common devotees.
Prominent decisions made at the crucial board meeting held at the Annamayya Bhavan were as below:
· Henceforth the entire expenditure of Sri Venkateshwara Vaibhotsavams conducted abroad will have to met by the sponsors only.
· TTD will release Rs 5 crore as first instalment to the State Endowment department as part of its commitment to allocate Rs 25 crore for propagating sanatana Hindu Dharma Pracharam in ST/ST and fishermen regions in AP.
· Rs 24 crore financial assistance sanctioned to SVIMS towards 2016-17 budget.
· Rs 20.70 lakhs sanctioned for revival of Sri Venugopalaswamy temple at Jud-bhavaram village of Karapa village of East Godavari District.
· Rs 22.50 lakhs for repairs to Sri Ramalayam temple at Sringavarapukota in Vizianagaram district.
· Rs 1.25 crore sanctioned for construction of Kalyana Mandapam at Yedlapadu village in Guntur Dist.
· Sanctioned Rs 19.80 lakhs for repairs to Sri Nageswara Swami temple at Pulluru village of Khajipet mandal of YSR Kadapa district.
· Rs 22.50 lakhs granted for building a gopuram etc at Sri Chennakesava Temple, in Vanipenta village of Mydukur mandal of Kadapa district.
· Board approved grant of Rs 1.35 crore for a TTD Kalyana mandapam at Uranduru village of Srikalahasti mandal in Chittoor district.
· Rs 95 lakhs granted to build a dormitory hall, rooms etc at Sri Subramanyaswamivari temple at Utlavaripalli in Pakala mandal Chittoor dist.
· TTD kalyana mandapam and auditorium at Ahmedabad in Gujarat state at a cost of Rs. 3.45 crore.
· Sri Tangirala Venkata Krishna Purna Prasad as Asthana Siddhanti of TTD for a period of 3 years.
· During 2017 TTD diaries will be printed in private press units . TTD board has approved the cost of printing for Category-1 diaries-8 lakhs and Category-2 diaries- Two lakhs.
· Sri Krishna Teja super speciality dental hospital has been included in the list empanelment for TTD employees and their family members
MARKETING:
· TTD board approved a budget of Rs.3.01 crore for purchases to the various TTD hospitals.
· Board approved proposal to procure tamarind from the Hindupur Tamarind traders association and also Jaggery from the Anakapalli Jaggery traders federation.
· TTD to buy 2.25 lakh kgs (stock for six months) cow ghee from Karnal Milk foods Ltd of Haryana at a cost of Rs.376 per kg totalling Rs.8.46 crore.
· TTD to buy 16,32 lakh kgs of sona masuri rice (stock for three months) at Rs.40 per kg from AP rice Millers Assn (10.20 lakh kgs) and Telangana Rice Millers Association (6.12 lakh kgs) at a total cost of Rs 6.52 crore.
· Grant of Rs.3.05 crore for purchase of two lakh kgs of dry grapes (stock for six months) at rate of Rs 152.82 per kg.
· Board approved purchase of 1.80 pieces of cotton Uttareeyam at Rs.84 per piece costing Rs 1.50 crore.
· TTD to buy 3.60 crore paper cups at total cost of Rs 1.47 crore.
· 2.50 lakh cotton blouse pieces at Rs.55.20 per piece at a total expense of Rs 1.38 crore.
· TTD to buy 39.32 lakh litres of toned milk (one year stock) at Rs 28.70 per litre at a total allocation of Rs 11.28 crore.
· TTD has accrued Rs 11.88 crore in July and Rs 5.94 crore in August last from sale tonsured hair.
Among others who participated in the board meeting were TTD EO Dr D Sambasiva Rao, E ndowment Commssioner Smt AnuradhaTTD board members Sri J Sekhar Reddy, Smt Pilli Anantalakshmi, Smt Kolla Lalita Kumari, Dr Sampath Ravi Narayana, Sri D Bala veeranjaneylu, Sri P Sudhakar Yadav, Sri AV Ramana, Dr Pasupuleti Hari Prasad, Sri DP Ananta, Sri Bhanu Prakash Reddy, Sri Sandra Venkata Veeraiah, Sri Arikala Narsa Reddy, Sri Chintala Ramachandra Reddy, Tirumala JEO Sri KS Sreenivasa Raju, TTD projects OSD Sri Muktheswar Rao, Chief Engineer Sri Chandrasekhar Reddy, Addl FA&CAO Sri Balaji and others.

ISSUED BY PUBLIC RELATIONS OFFICER, TTDs,TIRUPATI