DEVTOEES SWARMING MODEL SRIVARI TEMPLE AT VIJAYAWADA
Vijayawada, 15 August 2016: The flow of devotees at the TTD model temple complex on the PWD grounds of Vijayawada as part of the Krishna Pushkaram is continuing unabated for the third day today. The temple complex is resounding with the chanting of Govinda, Govinda as the devotees in four lane queue system are happily begetting the darshan and blessings of Lord Venkateswara.
The TTD staff, vigilance and srivari sevaks are having a tough time in restraining the huge crowds but water spray is used once a hour to contain the humidity and hot winds of Vijayawada. The 160 member Health team of TTD is cleaning the entire premises in three shifts every day. TTD is providing safe drinking water by installing a RO plant for the period.
All the devotees visiting the model temple for darshan are provided pulihara, small laddu and sweet bath (chakkara pongal) as prasadam. After darshan the devotees are making a bee line for the photo and musuem stalls and also the exhibition of fruits and flowers decked up for the occassion.
Later on the cultural programs organized by the HDPP including devotional music and other dharmic events are attracting large number of followers.
In fact the HDPP is organising such programs at Swarajyam grounds of Vijayawada, Zilla parishad school and andhra vishnu alayam at Srikakulam, Buddha stupa pranganam at Amaravati. Similar HDPP and Annamacharya project sponsored programs were also held at Alampuram, in the temple of Jogulamba in Telangana region.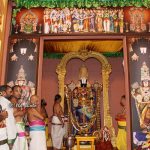 ISSUED BY THE PUBLIC RELATIONS OFFICER TTDs, CAMPING FROM VIJAYAWADA