EO REVIEW ON GUEST HOUSES ETC
Tirumala, 5 July 2016: TTD EO Dr Sambhasiva Rao said the facilities in all the guest houses of the hill shrine would be further refurbished and improved within one month.
After a review of the guest houses and accommodation at the Annamayya Bhavan, the TTD EO directed the officials to complete all repairs for infrastructure like drinking water, hot water, lighting etc in the rooms within one month and assure that pilgrims are not put to any hardships. All vacant quarters should repairs and put to use. He focused on mosquito eradication and cleaning of all drainages at Tirumala in view of rainy season and also provision of 1000 racks in the kalyana kattas for footwear keeping and also CC cameras to avoid thefts. All copper and silver dollars of Lord should be made available for devotees in time for brahmotsavam in adequate number.
He instructed the officials that re-entry tokens should be given to devotees in VQC only when the waiting period is beyond two hours and the same informed to devotees. He also wanted secure monitoring of the mobile hundis repairs and also CC camera coverage. He also advised officials to ensure dust free environment at the Parakamani where coins and notes were counted and that engineering , vigilance and health staff should coordinate efforts to ensure against proper supervision of counting of coins.
He asked officials to review all department wise complaints received during the Dial your EO program and also ensure that the Rs.300 ticket devotees should not face any hurdles in darshan.
He directed that services of TTD employees engaged in voluntary corps of Sri Satya Sai seva samstha, Sri Ramakrishna matham, Brahma kumari and other NGOs should be utilised in TTD along with Srivari Seva. The TTD would review the request of Srivari Sevaks for three laddus at price of Rs.10 and also three laddus of Rs.25 during the non-peak periods, he assured. The services of volunteers from TTD educational institutions, Boys and Scouts and NCC should also be used during peak hours.
TTD EO Dr Rao also advised that the SVBC should elevate the devotional and spiritual quotient by organising discourses of exponents in philosophy and Hindu dharma. Arrangements should be made at Nada Niranjanam for devotees to sit and watch the performances. He also directed officials to increase greenery and gardens all around Tirumala for benefit of devotees who throng in lakhs during festivals and other periods.
Prominent officials who participated in the review meeting were Chief Engineer Sri Chandrasekhar Reddy, Addl FACAO Sri Balaji, DyEO's Sri Rama Rao, Sri Haridranath, Sri Venugopal, Health Officer Dr Sharmista and others.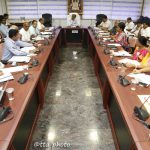 ISSUED BY TTDs PUBLIC RELATIONS OFFICER, TIRUPATI