GITA JAYANTHI BEGINS AT MAHATI
Tirupati, 30 November,2014: The Gita Jayanthi Utsavams mulled by TTD's HDPP commenced in Mahati Auditorium on Sunday evening.
The programme began with "Veda Swasthi" and followed by "Gita Parayanam". Renowned scholar and former HDPP secretary Dr HS Brahmananda delivered a spiritual lecture on"Purushottamaprapthi Yogam" which is followed by religious discourse by Swami Sankaranandagiri of Sri Paramatmanandashram of Krishna District.
Apart from Tirupati, TTD is also organizing this fete in all the HDPP centres located in Chennai, Bangalore and Guruvayore also.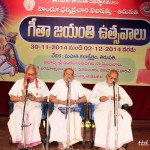 ISSUED BY TTDs PUBLIC RELATIONS OFFICER, TIRUPATI