LORD KALYANA VENKATESWARA SWAMY TAKES RIDE ON CHINNASESHA VAHANAM
Srinivasa Mangapuram, 11 Feb, 2015: On the sunny morning of the on-going annual Brahmotsavams of Lord Kalyana Venkateswara the processional deity of Lord Malayappa Swamy was taken out in a grand procession on 'Chinna Sesha Vahanam' around the holy mada' streets encircling the holy shrine.
According to Hindu puranas the Kundalini Shakti is said to be most powerful level of energy and called Kaivalya Gnana. This is the potent energy available to mankind by the grace of Lord of Lords Sri Venkateswara and is represented by mighty snake.
To make the human being about the important of that Serpentine Kundalini energy which enables human being to reach the 8.4 millionth manifestations, the last in the cosmic life cycle lord takes ride on Chinna Sesha Vahanam which is also believed to be the divine serpentine Vasuki.
Tirupati JEO Sri Pola Bhaskar, DyEO Sri Sridhar, AEO Sri Dhanajeyulu, VGO Sri Ravindra Reddy, Temple Staff and large number of devotees took part.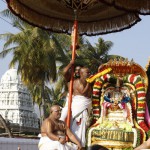 ISSUED BY THE PUBLIC RELATIONS OFFICER, TTDs, TIRUPATI