PADMAVATHI PARINAYOTSAVAM OFF TO A COLOURFUL START IN TIRUMALA
"FLORAL BUNCH AND FRUITY PUNCH HIGHLIGHTS PARINAYOTSAVA MANDAPAM"
TIRUMALA, APRIL 27: The three-day annual celestial fete of Padmavathi Parinayotsavam off to a colourful start in the hill town of Tirumala on Monday amidst the special stage made with the concept of -"Phala-Pushpa Shobhita Vedika" made of varieties of fruits and flowers for the religious ceremony .
Earlier the religious fete began with the procession of Lord Sri Malayappa Swamy Varu seated on Small Gaja Vahanam and Goddesses Sri Devi and Bhu Devi brought on other Tiruchis and reached the finely decorated Parinaya Mandapam in Narayanagiri Gardens.
The celestial marriage took place on the lines of traditional Hindu Marriage system with the interesting events like Edurukolu(Inviting bridegroom and his entourage by the parents and relatives of bride to Parinaya Vedika), Pumala Marpu-(Exchange of floral garlands), Vastrala Chadivimpu (Offering new vastrams to bridegroom), Pu Bantata-(Game of floral balls) and Venchepu(bride and bridegroom being seated on the platform for marriage ceremony).
The pilgrims who converged to witness the celestial wedding enjoyed every moment of the ceremony. The celestial marriage took place under the supervision of Agama Advisor Sri NAK Sundaravadanacharya.
LEGEND: As per the temple legend, when Goddess Mahalakshmi left Lord Maha Vishnu for Kolhapur, Lord Srinivasa who left in search of His love landed first on Narayanagiri in Tirumala where these gardens are located and settled as Lord Venkateswara and married to Goddess Padmavathi Devi. It is believed Lord had Gandharva Vivha with Goddess Mahalakshmi who returned from Her exile after a long time. To mark this ceremonious occasion, the celestial marriage is being observed as Padmavathi Parinayotsavam in Tirumala for three days on Navami, Dasami and Ekadasi days.
PARINAYA VEDIKA: Every year garden department of TTD plans unique concept for this grand celestial marriage. Earlier the Pasupu-Kumkuma Mandapam, Crystal Mandapam, Gajula Mandapm won the appreciation of the pilgrims and this year it has come out with yet another concept of "Phala-Pushpa Shobhita Mandpam" where fruits including apples, pomegranates, pine apple along with corns, sugarcanes and mangoes were decorated tastefully while the unjal and parinaya vedika is decked with asparagus, marigold, Archids, roses and other varieties of traditional and ornamental flowers with colourful "Matti Utlu" being hanged all over the roof at different places. A Pune-based donor has come forward to donate for the conceptual marriage stage.
CULTURAL PROGRAMMES: Later the artistes of Annamacharya Project rendered sankeertans during this celestial fete.
TTD EO Dr D Samba Siva Rao, Tirumala JEO Sri KS Sreenivasa Raju, Temple DyEO Sri C Ramana, VGO Smt Vimala Kumari, Garden Deputy Director Sri Srinivasulu and other senior officers, large number of pilgrims were also present.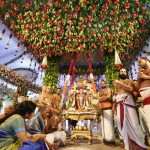 ISSUED BY TTDs PUBLIC RELATIONS OFFICER, TIRUPATI