GODDESS PADMAVATHI ON SAPTHA VAHANAMS REGALES DEVOTEES
Tirupati, 3 February 2017: On the holy occasion of the Ratha Sapthami, today the Goddess Sri Padmavathi enthralled the devotees by riding on seven vahanams.
The ecstatic journey of the Goddess from 7AM to 2PM was witnessed by thousands of devotees on the Surya Prabha, Hamsa, Aswa, Garuda, Chinnasesha vahanams . After the holy snapana Thirumanjanam in the afternoon the Goddess went out again on the Chandraprabha and Gaja Vahanams in the evening.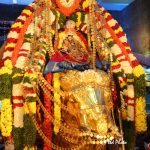 At the Suryanarayana sawmy temple adjacent to PAT at Tiruchanoor, the deity blessed the devotees on the Aswa Vahanam.
Earlier the JEO of TTD Sri Pola Baskhar participated in the Abhisekham event organised at the Sri PAT and the Suryanarayana sawmy temple. Among others Special grade Dy EO Sri Muniratnam Reddy, AEO Sri Radhakrishna and other officials participated.
The artists of the HDPP, DasaSahitya, Annamacharya Project from Ranga Reddy, Krishna, Mahboobnagar and also of Madurai from Tamil Nadu presented Kolatams, Chakka Bhajanam, Chidathala Bhajanam, Venkanna Godugu Bhajana and Thirunamam Kodai Bhajanams and enthralled the devotees.

ISSUED BY THE PUBLIC RELATIONS OFFICER, TTDs, TIRUPATI