LORD RIDES SWARNARATHAM DURING VASANTHOTSAVAM
Srinivasa Mangapuram, 10 May 2015: It has been a hey day for the denizens of Srinivasa Mangapuram when they witnessed the grandeur of Lord Sri Kalyana Venkateswara Swamy on Swarnaratham on Sunday evening.
For the first time, the Lord flanked by His consorts adorned the mighty Swarnaratham as a part of the second day of Vasanthotsavam.
Thousands of devotees took part in this religious fete with religious ecstasy and chanted "Govinda-Govinda" with aplomb.
Earlier during the day snapana Tirumanjanam was performed to the deities in the Vasantha Mandapam as a part of the three-day annual vasanthotsavam.
The devotees who took part in this celestial spring fete enjoyed every moment when the Lord was given the holy bath with sacred and aromatic ingredients amidst rhythmic chanting of vedic hymns by archakas.
TTD Chiarman Sri Chadalawada Krishnamurthy, Temple Deputy EO Sri Venkataiah and other officers were also present.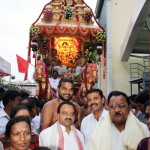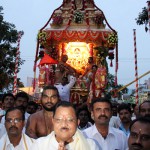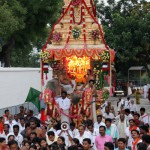 ISSUED BY TTDs PUBLIC RELATIONS OFFICER, TIRUPATI