SPECIAL STORY ON HARATI VADHYAM
Tirumala, 25 September 2017: Lord Venkatewara, the presiding deity of Seven Hills is not just Alankarapriya (lover of frangnancies, flowers and jewels) but also Vadhya Priya and also fancied animal voices-cows, elephants in the early days.
Temple legends say that particularly during harati moment he preferred to listen to the baying of cows and trumpeting of the elephants and drum beating of local tribal population which served for him and the hill shrine centuries before celebrated devotees like kings, chieftains and planned temple administration took over its maintenance.
Since it is not feasible to bring a cow or an elephant inside the sanctum or Srivari temple during the numerous harati hour a unique batch of instruments are played since later centuries after the temple came out of maintenance of temple maintenance. They are Gorgol, Trichur-nal and Sanna dol (small tribal drum).
The Gorgol sounds like baying of a cow while the Trichur-nal appears like trumpeting of the elephants and the Sanna-dol appears like alarming rhythm beat.
Venkateswarlu,who beats the Sanna -dolu during the every harati hour in the Srivari temple says he has been serving the Lord for decades and so did his family before him.The rhythm of Sanna-dolu was to alert and caution the temple priests and officials on their duties and services to devotees. 'We have to sound the instruments in the Srivari temple – Ranganayakula mantapam, Kalyanotsavam, Tomala, Subrabatham, Arjita sevas and Snapana Thirumanjanams etc ' he says.
Two teams of Harati Vadyam operated in shifts from morning Suprabatam to Kaltyanotsavanm in the afternoon and thereafter up to Ekantha seva at night. Kumar who plays the Gorgol the long brass instrument like clarinet says' Next to Veda mantras Lord preferred these sounds of cows and elephants during every harati performed at the Srivari Temple'.
TTD temple DyEO Sri Kodandaram Rao says that even todate all the rituals, chanting of Vedic mantras and flower and gold decorations and the harati vadyams were performed in the Srivari Temple, as per the Agama dittam laid down by saint Ramanujacharya. 'Ramanujacharya had also prescribed as to which mantras for which ritual and that Harati vadyam for all harati's in the temple ' he saId.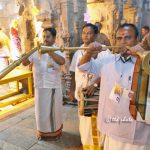 ISSUED BY THE PUBLIC RELATIONS OFFICER, TTDs,TIRUPATI