TEPPOTSAVAMS CONCLUDES IN SRI PAT_ వైభవంగా ముగిసిన శ్రీ పద్మావతి అమ్మవారి తెప్పోత్సవాలు
Tiruchanoor, 27 June 2018: The annual Teppotsavams in Tiruchanoor concluded on a grand religious note on Wednesday evening.
On the final day of the five day float festival, the processional deity of Goddess Padmavathi Devi was seated on the finely decked float and the Teppotsavam commenced.
The Goddess of Riches blessed Her devotees by taking seven rounds in the float on the pleasant evening.
Temple Special Grade DyEO Sri Munirathnam Reddy, AEO Sri Subrahmanyam, took part in the fete.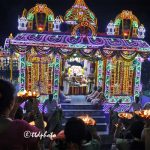 ISSUED BY TTDs PUBLIC RELATIONS OFFICER, TIRUPATI
వైభవంగా ముగిసిన శ్రీ పద్మావతి అమ్మవారి తెప్పోత్సవాలు
తిరుపతి, 2018 జూన్‌ 27: తిరుచానూరులో ఐదు రోజుల పాటు జరిగిన శ్రీ పద్మావతి అమ్మవారి తెప్పోత్సవాలు బుధవారం ఘనంగా ముగిశాయి. ఇందులో భాగంగా ఉదయం సుప్రభాతంతో అమ్మవారిని మేల్కొలిపి సహస్రనామార్చన, నిత్యార్చన నిర్వహించారు. మధ్యాహ్నం 3.30 నుండి 5.00 గంటల వరకు నీరాడ మండపంలో శ్రీ పద్మావతి అమ్మవారికి వేడుకగా అభిషేకం నిర్వహించారు. ఇందులో పాలు, పెరుగు, తేనె, కొబ్బరినీళ్ళు, పసుపు, చందనంలతో విశేషంగా అభిషేకం చేశారు.
సాయంత్రం 6.30 నుండి 8.00 గంటల వరకు తెప్పోత్సవం వైభవంగా జరుగనుంది. ఇందులో అమ్మవారు ఏడు చుట్లు తిరిగి భక్తులకు కటాక్షించనున్నారు. అనంతరం రాత్రి 8.45 నుండి 10.00 గంటల వరకు శ్రీ పద్మావతి అమ్మవారు గరుడ వాహనాన్ని అధిష్టించి ఆలయ నాలుగు మాడ వీధుల్లో ఊరేగి భక్తులను అనుగ్రహించనున్నారు. తెప్పోత్సవాల సందర్భంగా ఆలయంలో లక్ష్మీపుజ, కల్యాణోత్సవం, ఊంజల్‌సేవను రద్దు చేశారు.
తి.తి.దే., ప్రజాసంబంధాల అధికారిచే విడుదల చేయబడినది.