TTD's UNIQUE NEW INITIATIVE BOON FOR NEWLY WEDS
· Special blessings for all newly weds from Lord Venkateswara
· Blessings in return for your Wedding card
· Akshintalu, Kumkamam,Kankanam
· Ashirvachanam patrika and Kalyana Sanskrit book
"మాంగళ్యం తంతునానేన, మామ జీవన హేతునా |
కంఠే బధ్నామి సుభగే, త్వం జీవ శరాదం శతమ్‌||"
( I am tying this Mangalyam accepting you as my life partner and that you should live a full 100 years )
Tirumala, 5 February 2017: The TTD has taken yet another unique initiative to extend blessings of Lord Venkateswara for the newly weds wherever they were Hither too the newly weds at Tirumala were provided darshan in a special manner.
The institution of marriage has a special place in the Hindu philosophy which signified the path for the young boys and girls to launch a new phase of their life with confidence and the blessings of Lord Venkateswara is a unique and privileged boon.
All that the newly weds have to do is send their wedding invitation with complete address for correspondence to the TTD. The TTD will organise to send them Akshintalu (Talambralu), Kumkamam, Kankanam with the blessings of Lord Venkateswara and also Sri Padmavathi ammavaru.
The TTD will also send them a copy book Kalyana Sanskriti written by TTD OSD Dr Samudrala Lakshamaiah along with a Ashirvachanam of Lord Venkateswara signed by the Executive Officer. The Dispatch section of the TTD endowed with the task is geared to send Lords blessings and others for a minimum of 10,000 newly weds every year.
How to Get Lord Ble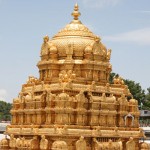 ssings
The newly weds desiring to beget the Lord Blessings should send their wedding cards to : The Executive Officer, TTD Admin Bldgs, K T Road, Tirupati-517501 . They can also dial the TTD call centre : 0877-2233333/2277777 for more details .

ISSUED BY THE PUBLIC RELATIONS OFFICER TTDs TIRUPATI