COMPUCOMPULSORY SCANNING OF RE ENTRY TOKENS AT VQC 2LSORY SCANNING OF RE ENTRY TOKENS AT VQC 2
Tirumala 2 July 2016: Tirumala Tirupati Devasthanam has appealed to all devotees that scanning of their re-entry tokens at VaIkuntam 2 complex was mandatory and compulsory.
It is well known that TTD has made the provision of re-entry tokens to devotees of Sudarshan tickets to visit other places in Tirumala instead of waiting in the queue complex.
Scanning of the re-entry tokens was necessary for the devotees who return to the queue complex for both darshan and also to procure laddus. The new directive is to provide more hassle free facilities like laddu and darshan to devotees and to make the system fool proof, say the TTD.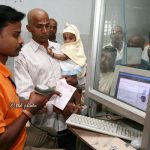 ISSUED BY TTDs PUBLIC RELATIONS OFFICER, TIRUPATI